The Volunteer Revolution Book Study, Part 4
If your home is like most across America today, it's filled with busy preparations for tomorrow's Thanksgiving feast. In the midst of a day filled with football, turkey, and pumpkin pie, most will stop for a moment and give thanks for the blessings in our lives. So, it's only appropriate that chapters 8 and 9 […]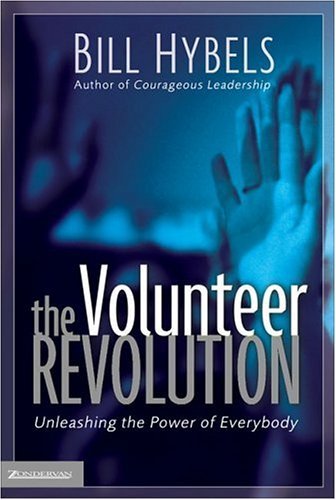 If your home is like most across America today, it's filled with busy preparations for tomorrow's Thanksgiving feast. In the midst of a day filled with football, turkey, and pumpkin pie, most will stop for a moment and give thanks for the blessings in our lives. So, it's only appropriate that chapters 8 and 9 of The Volunteer Revolution help us as leaders remember to be grateful for the ministry volunteers who give freely of their time and talents.
Stories of Passion
Chapter 8 is filled with stories—accounts of people serving in ministry who are passionate about people. The striking similarity in all of these stories is that these individuals were open to God's call—they often weren't exactly sure why they signed up, why they were compelled to join a team of strangers, or were surprised when they couldn't wait until they could return to serve others.
We quickly forget that volunteering isn't really about the task or the job, it's about people. It's about the relationships we form with those we serve beside, those we serve in need, and the God we serve through service opportunities.
Pop the Question
I love what Hybels says about asking people to volunteer, "I believe that in churches all over the world there are people who love God, the church, and other people but have never crossed the line into intentional servanthood simply because no one has ever asked them to," (p. 105). How true that statement is—we often forget that when we need something, all we have to do is ask. And while those big announcements and posters may draw in a few, it's the personal, one-on-one request that is most successful.
Don't neglect your best recruiters—those individuals who are already passionately serving in ministry. Their enthusiasm is contagious! When leaders cast a strong vision to their teams, those serving passionately in this area will love to talk to others, especially those they already have a relationship with, about being part of something that they strongly believe in.
Give Thanks
Hybels shares a story of a volunteer who is rocking babies in the new church nursery during their new building's dedication service. As he walked by the nursery he popped in to personally thank the ladies who were caring for the babies so their parents could enjoy the service. He received a note from one of the women later that week—she wanted him to know that it was the first time in 22 years of serving at church that she had been thanked by a church leader. Wow!
Don't let your volunteers ever doubt their value—thank them often. Let them know that they're making a difference, that their service matters!
Think On This
What are some of the stories in your church that reveal the passion people have for serving in ministry? How often do you share those stories with your church or community? How are you modeling the value of "asking" for your current volunteers? How can you show gratitude and thanks to your volunteers this week?
Follow Us
Stay connected to us and be the first to know about exclusive deals and upcoming events.