The Volunteer Revolution Book Study, Part 3
25 years ago, I eagerly volunteered to help redesign our church newsletter. Writing comes natural to me and I had recently graduated from college believing I had all of the journalistic skills necessary to bring the newsletter to the next level. After revitalizing our church news with a trendy facelift, I wasn't feeling energized about […]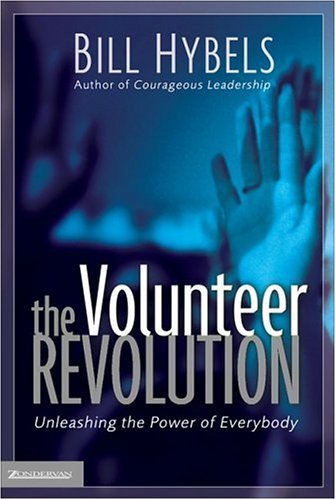 25 years ago, I eagerly volunteered to help redesign our church newsletter. Writing comes natural to me and I had recently graduated from college believing I had all of the journalistic skills necessary to bring the newsletter to the next level. After revitalizing our church news with a trendy facelift, I wasn't feeling energized about my volunteer endeavors. Then, someone asked if I could fill in for someone as a chaperone on a youth ski day in the mountains. I reluctantly agreed and spent the majority of the day with two scrawny freshmen boys tailing me everywhere. They even had the courtesy to initiate me into their world by locking the keys to the senior pastor's car (which I drove on loan that day) inside after they ate lunch in the vehicle. And as I drove down the mountain that night, I couldn't wait to spend time with the teens all over again.
I had found my passion in serving.
Chapters 5, 6, and 7 of The Volunteer Revolution challenges leaders to help people discover their call in ministry, to go beyond their gifts and figure out what drives them and fills their tank—what they are passionate about. If any of them are like me, they may figure out that it's not always about where your talents lie and more about what tugs at your heart.
Move Past the Drive-Through Mentality
Hybels puts the challenge out there for all of us—drop the consumer mindset where you're content to "eat and run" through your local church and instead take the time to enjoy and invest in ministry opportunities. As leaders, we need to step out of what's easy for us (just do it all ourselves) and invest in getting people off of the bench and into the game. When people in your church discover the fulfillment found in investing in others, it will change your church. No longer will they depend on leaders to "fill 'em and fix 'em." Then, when they get sick of the food, they move on to someplace else that will eventually leave them unfulfilled and unsatisfied. Fulfillment, satisfaction, and spiritual growth will come naturally for those that are serving and investing in the lives of others. It's what we were made for, what God has called us to do.
No Holding Back
So, what are people waiting for? People wait for the perfect opportunity, the perfect fit, or the perfect timing. Reality is, you won't know "perfect" until you give something a try. As leaders, we need to offer a sneak peek into areas of service in our church. At Willow Creek Church, they call this First Serve. Folks can come out once and try on a service opportunity to see if it's a good fit—no strings attached. We need to empower people with the attitude that it's okay to try something and then say it didn't work. But we need to be able to let them try out numerous opportunities until they find a good match, one that fuels their passion, an opportunity where they can't wait to return.
Think On This
What sparked your initial passion for ministry or serving others? Hybels says we're all "priests"—what are you doing to be a "priest" in your church and community? How do you help people in your church discover their talents but then help them plug-in to an area or opportunity they're passionate about?
Follow Us
Stay connected to us and be the first to know about exclusive deals and upcoming events.