The Volunteer Revolution Book Study, Part 2
Don't you just love a good surprise? One that totally catches you off-guard because it's so unexpected; yet completely satisfying and fulfilling. In chapters 2, 3, and 4 of The Volunteer Revolution, Bill Hybels provides readers with wonderful stories that capture the joy and surprise people experience when they begin living a life of servanthood. […]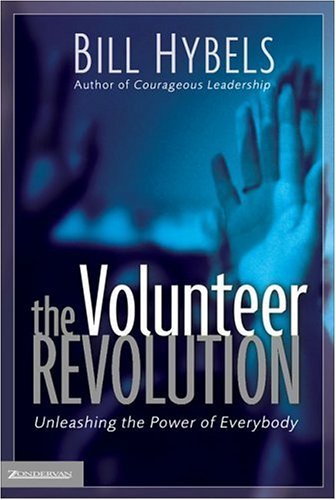 Don't you just love a good surprise? One that totally catches you off-guard because it's so unexpected; yet completely satisfying and fulfilling.
In chapters 2, 3, and 4 of The Volunteer Revolution, Bill Hybels provides readers with wonderful stories that capture the joy and surprise people experience when they begin living a life of servanthood. Hybels reveals that when people give of their time they can transform a society and find deep, personal fulfillment and satisfaction through their experiences.
This is NOT What I Expected
Unfortunately, volunteerism often gets a bad rap—people give of their time and leaders or organizations abuse their generosity, ask for help but provide nothing to do, give volunteers no direction, place people in a job that's not a good fit, or never utter one word of thanks. It's no wonder that individuals hesitate (or run!) when you approach them with a request to serve. They've been wounded and haven't positively experienced what God designed them for.
When people are entrusted to use their passions and talents to serve others, they're often astonished that they actually find great pleasure in helping others. The church is designed to be supported by volunteers, and mobilizing individuals and teams to "be the church" in a way where people can use their gifts is a win-win. Hybels describes it wonderfully in chapter 2 when he says this, "One of my favorite definitions of the church is a 'community of blessing'—a community blessed by God so that it can bless the world," (p. 33).
Take a Gamble
When Jesus called His disciples, they definitely took a gamble. They gave it all up to follow Jesus, not knowing what the results would be. They soon discovered that following Jesus could be both amazing and—a bit terrifying. But Jesus provided them with a living example of being a servant to others. And though they weathered some tough trials as they served, they ultimately made a huge difference in the lives of the people in their communities and their world. Is serving others a bit risky? It can be. But the fulfillment experienced in servanthood is worth the gamble, just read the many stories throughout this book. Because Jesus served us, we're compelled to follow his example and serve others.
Think On This
How do you help children, students, and others in your church discover their talents and passions? What kind of opportunities does your church offer where people can be a blessing to others? How can serving others give meaning to life or help people heal? What are the stories from your ministry that reveal the satisfaction found in serving others?
Follow Us
Stay connected to us and be the first to know about exclusive deals and upcoming events.