World's Apart
We are happy to introduce you to one of Orange's newest resources: World's Apart, a new book by Chuck Bomar The life stage of 18- to 25-year-olds is completely different than it was in previous eras. In just one generation, we see contrasts that used to take two to three generations to surface. This shift […]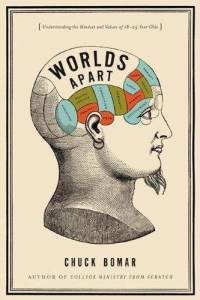 We are happy to introduce you to one of Orange's newest resources: World's Apart, a new book by Chuck Bomar
The life stage of 18- to 25-year-olds is completely different than it was in previous eras. In just one generation, we see contrasts that used to take two to three generations to surface. This shift has created frustration and confusion with those of older generations. Parents recognize this is a completely different world and struggle to relate the world of their child. Others throw their arms up in bewilderment, assuming they'll never understand. And many church leaders wish they'd "just grow up."
In this book, Chuck Bomar brings understanding, comfort, and direction to all of this. You'll learn: how the development of higher education has effected much of the separation between generational worlds; the irreversible ways in which this generation has been impacted and how today's college-age person differs from the typical thoughts and values of older generations; the differences in life pursuits that cause major tension points between generations and how to navigate those. Through profiles of college-age people and testimonies of parents, you'll explore in-depth issues college-age people face, how they process through them, and what influences their decisions so that you can effectively bring your world together with theirs.
To purchase World's Apart, click here.
What Others are Saying:
"I always read everything Chuck writes because he writes with not just his research and experience but with passion, love and belief in this generation."
Dan Kimball, author They Like Jesus But Not The Church
"From one of the leading experts on college students, Chuck Bomar, World's Apart gives us a solid, clear and empowering resource for coming alongside these emerging adults. When I want to learn about college students, I read Chuck Bomar."
Chap Clark, PhD
Professor of Youth, Family, and Culture at Fuller Theological Seminary
"In Worlds Apart Chuck gives us a deep perspective for parents from the front lines of ministry. Wondering what your college students might be thinking right now? Chuck can tell you."
Reggie Joiner, Founder and CEO of Orange

Chuck Bomar's vision is for every church to embrace college-age ministry as a vital part of their church.  Founder of CollegeLeader and author of several resources, Chuck has dedicated much of his life to the cause of helping churches and denominations start and/or develop effective college-age ministries. After starting a college ministry from scratch and serving for nine years as a student ministry pastor, he is now lead pastor of Colossae in Portland, Oregon, where he lives with his wife Barbara and their two daughters, Karis and Hope.
Follow Us
Stay connected to us and be the first to know about exclusive deals and upcoming events.