September YouLead: Engaging Presentation
Did they pay attention? Did you engage them? It's something to consider when you are communicating to kids and students. You have a limited amount of time, so it's important to make the most of it. You may have heard people say, "But it's not our job to entertain kids." No, but we are called […]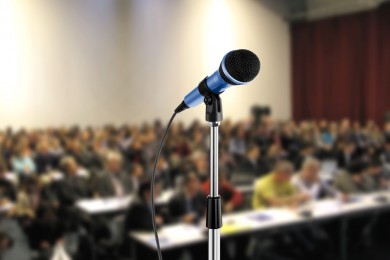 Did they pay attention? Did you engage them? It's something to consider when you are communicating to kids and students. You have a limited amount of time, so it's important to make the most of it. You may have heard people say, "But it's not our job to entertain kids." No, but we are called to teach them, and the word teach means "to cause to learn." So, how do you make the most of the time you are teaching your kids? Are you constantly evaluating what's being presented, and coming up with ways to be more effective?
This month, we're challenging you to think about engaging presentations. Whether we communicate from the stage, or in front of one person, it's important that we remain authentic, creative and relevant.
We know that you lead in several ways at any given time. You lead yourself, you lead volunteers, you might lead a staff, and you often lead up. Below, read through what we have in store for you to accomplish each of these tasks.
PERSONAL LEADERSHIP DEVELOPMENT
It's coming! Week after week, Sunday happens! And it's easy to let the speed of life keep you from investing in yourself and others. But investing in your own leadership is one of the greatest investments you can make. So, grab a Sharpie and mark some personal time each week this month to invest in your own leadership development—20 minutes should do it. We've already got a plan mapped out for you, so making the time is the first step to
BOOK PREVIEW: The Naked Presenter by Garr Reynolds
In this book, Reynolds reminds us that, presenting naked means connecting and engaging with an audience—whether three people or 3,000—in a way that is direct, honest and clear. It is not about entertainment, but engagement.
PODCAST: Michael Haun from the Big Deal Guys, interviewed by Matt McKee
Michael runs the company StoryRealing.com. Matt and Michael talk about telling a great personal story, what goes into a great story, and you even get to listen to Michael tell a few stories along the way.
VIDEO: Reggie Joiner
In this month's video we are going to change it up a bit, instead of watching a video where someone tells us how to create an engaging presentation we are going to watch and learn from a great talk. If you have heard Reggie speak, then you know that he is an engaging presenter.
REAL WORLD: Walt Disney
There are a lot of things we can learn from observing the way The Walt Disney Company operates. There are countless books that are written detailing how they do what they do, from their exceptional customer service, to the way they value their employees—they go above and beyond in every way. But in this Real World we are going to take a look at the man who created it all, Walt Disney, himself.
TEAM LEADERSHIP DEVELOPMENT
Whether you're leading a large staff, a few people, or you're trying to lead up to your senior leadership, we've got something for you. We're including another book preview with this portion of YouLead because we felt that it would be a great tool to reinforce this month's topic. Speaking of that, this month's focus is (drumroll)—
ENGAGING PRESENTATION [M5]
Programs are evaluated on the basis of how they function as a step toward specific spiritual and relational goals.

Communicators are consistently coached and evaluated on the focus, authenticity, creativity and relevance of their messages.
Now that you've taken some time to invest in yourself, don't hold on to it! Pass along some great information to your volunteers that will make them consider and think differently about the ministries, programs and events at their church, and even the strategic programming of their personal lives.
This month, we've included some handy-dandy, already written, already designed emails that you can send to your team.
WEEKLY EMAILS: Why We Do What We Do
As a leader, part of your job is to help others think differently about what they do and how they do it.
This month the weekly emails are designed to think about what makes an engaging presentation. We'll share practical ways to improve your presentations, while also giving some great presentations to watch.
BOOK PREVIEW: Designing Disney by John Hench
Part of an engaging presentation is the environment in which it's presented. And who can tell us better about creating the right environment than Disney. When the creators of Disney created Disney World, they created it in such a way that their environments told a story that guests could experience in real time. Imagine the impact of your next presentation if it's given in the right environment.
SENIOR LEADERSHIP PODCAST: Matt McKee interviews Matt Knisely.
Knisely has won 20 Grammies for his work in visual storytelling. The Matts talk about doing great presentations, great videos, and the secret behind both. You just might be surprised by the answer to this secret.
REAL WORLD: Imagineers
Walt Disney dreamed of a team that combined the best of all different worlds and disciplines working together to accomplish the impossible. They became the Imagineers. He knew that combining environment and entertainment together to tell a compelling story would create an ideal learning experience for people of all ages that could actually inspire our everyday lives. You can do this too!
Follow Us
Stay connected to us and be the first to know about exclusive deals and upcoming events.