The Billboard Bag Project
If you attended The Orange Conference 2011, you are probably still toting around the satchel we gave away that is made of discarded billboards. We are fans of Plywood People and their initiative to provide jobs through The Billboard Bag Project. We first shared the story of Plywood People and The Billboard Bag Project this […]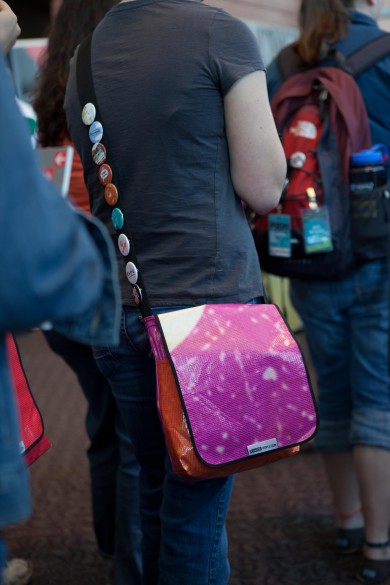 If you attended The Orange Conference 2011, you are probably still toting around the satchel we gave away that is made of discarded billboards. We are fans of Plywood People and their initiative to provide jobs through The Billboard Bag Project. We first shared the story of Plywood People and The Billboard Bag Project this past spring. Read more about their organization and their current need:
We have a premise regarding the projects that we start: Out of our excess, we can address issues of need and suffering. We are excited to share a new project that is doing just that: The Billboard Bag Project.
We were given the idea of creating bags from billboards. Large outdoor advertising companies generally throw away the billboards they take down from the side of highways. We were given a contact in Atlanta for one of these companies who gladly agreed to let us take the old billboards. Before we knew it, we had a shed full of billboards, and a good idea. You can get a glimpse of what the bags look like here.
Simultaneously, we were becoming aware of refugees who were without work, and struggling to make ends meet. Without knowing the language, customs, or being familiar with city life, they were left to fend for themselves. When refugees come to the U.S., they are given help for the first 90 days. In those 90 days they are expected to find a job, learn the language, learn their way around their new city, and build community. After 90 days, they need jobs.
So, we decided to put the billboards and our good idea to good use. We created jobs for 10 women who really needed it. We have taught them to sew. We provide English classes and financial training. Plus, we connect them with a local mentor to guide them through the cultural difficulties. This job-training program is bringing much needed hope to women who have left difficult lives in war-torn countries.
To date, our team has made and sold 11,500 bags in the first six months of work. Another exciting announcement is that two of the woman moved forward onto other sewing jobs in the community, resulting in lasting change for them and their families.
People all over the country are connecting with this story. But, we need your help. To improve this project we need to raise $25,000 to invest in the operations. Here are a few ways you could help invest in the future of these woman's lives:
• $30 Rotary blades for cutting the billboard material
• $140 Provide a new chair (need 10)
• $300 Give new desks to each woman (need 10)
• $450 Gift sewing machines to increase efficiency (need 10)
• $1500 Contribute to monthly costs (including rent, management, utilities)
• $2500 Buy a die-cut machine to increase quantities produced
There is something special that you have the opportunity to join. Please consider giving now.
May we be known by the problems we solve,
Jeff Shinabarger
Founder
678-481-4435
www.PlywoodPeople.com
www.GiftCardGiver.com
All contributions are tax deductible. The Billboard Bag project is under the 501c3 organization called Suffered Enough, Inc. Checks can be made out to "Suffered Enough" and sent to PO Box 17920, Atlanta, GA 30316 or you can contribute online now through PayPal. Give Now.
If you are interested and able, please consider supporting Orange's friend, Plywood People. Together, we can do more good.