Book Review: The Life You've Always Wanted by John Ortberg, Part Two
This month, we're taking a look at John Ortberg's book, The Life You've Always Wanted. Click here for part one of this series. Just like you can't win a marathon by trying really hard and never training, neither can you try really hard to gain spiritual transformation (p. 46-47). John Ortberg says that the most […]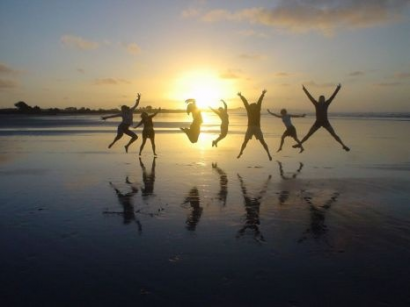 This month, we're taking a look at John Ortberg's book, The Life You've Always Wanted. Click here for part one of this series.
Just like you can't win a marathon by trying really hard and never training, neither can you try really hard to gain spiritual transformation (p. 46-47). John Ortberg says that the most helpful principle he knows regarding spiritual transformation is: "There is an immense difference between training to do something and trying to do something."
Sure, we could make a list of spiritual disciplines and practice them every day, checking them off after completion, but Ortberg himself found this to be tedious and exhausting. And at this juncture, Ortberg decided to define what spiritual disciplines are not (p. 46):
1)   Spiritual disciplines are not a barometer of spirituality.
2)   Spiritual disciplines are not necessarily unpleasant.
3)   Spiritual disciplines are not a way to earn favor with God.
So, what does training for spiritual transformation look like? According to Ortberg, wise spiritual training respects freedom of the Spirit; respects our unique temperament and gifts; takes into account our season of life; respects the inevitability of troughs and peaks; and begins with a clear decision.
It could be said that the disciplines we decide to implement for spiritual growth should cultivate joy—joy in the doing of them and joy as a result of doing them.
Ortberg raises the point that to cultivate joy, one must practice celebration—to seek out joy, live in the moment, reflect on God's attributes, unplug from TV and technology, and to train one's mind to think on things from a biblical perspective. "Joy is strength," Ortberg says. "Its absence will create weakness."
A great killer of joy, and of spiritual transformation, is "hurry sickness." With all the timesaving that technology and day planners have brought us, we choose to continue packing things into our day rather than enjoy the breathing room of minutes saved. Marketing executives love to save us time so that we can "do more." Ortberg challenges us to practice "slowing," first by literally doing things in slow ways—driving in the slow lane, getting in the slowest line at the grocery store, etc., And by entering into solitude—once a day, once a month, or even for an extended period once a year.
"What makes solitude so important?" Ortberg asks. "Solitude is the one place where we can gain freedom from the forces of society that will otherwise relentlessly mold us," (p. 90).
Ortberg offers suggested maps for brief moments of solitude as well as a picture of what a day of solitude would look like—and it doesn't include CDs, DVDs or books and articles to read other than the Bible.
What do your times of solitude with God look like? What do you include when practicing solitude? Do you read Scripture or sing worship songs?
Follow Us
Stay connected to us and be the first to know about exclusive deals and upcoming events.