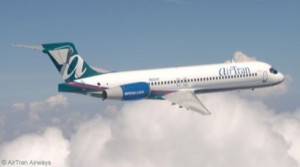 Great news—we found three more AirTran tickets!
In April, our children's curriculum will focus on the character trait of humility: putting others first by giving up what you think you deserve. We decided to put the virtue of humility in practice by asking you, our Orange community, to nominate someone you believe is deserving of a free plane ticket and Orange Conference registration.
Every year, we receive many requests asking for scholarships and assistance to attend the conference. Unfortunately, we are not able to accommodate these wishes in most instances. We truly want everyone to make it to the party, but sadly, it doesn't always work out. And that's what makes these little gems so exciting for both you and us!
Therefore, in the spirit of humility, please submit the person(s) who you feel are most deserving of this conference package* and why they should be chosen. These would ideally be people who couldn't make it this year, but you feel like they would benefit by being at The Orange Conference.
Here are just a few suggestions:
• The senior pastor who is implementing the Orange Strategy to change his/her community
• The children's minister who needs to be renewed in his/her vision
• The student minister who needs to be equipped and empowered
• The college minister who is searching for a solution
• The volunteer who deserves a reward
• The church staff whose conference budget was eliminated
• The parent who desires to better partner with their local church
Someone probably just popped into your head! The next step would be to check and make sure they could attend if they are chosen. After that, it's up to you to be their champion and send us their story.
Submissions must be sent to Orange Concierge by Thursday, April 7 at 5 p.m. We will notify the winner on April 11. Depending on the chosen submissions, we can divide the tickets into three singles, a pair and a single, or a group of three. Therefore, we could have multiple winners from multiple churches.
*Orange Conference tickets and airfare that have already been purchased will not be refunded. Hotel, ground transportation and meals will be the responsibility of the winner. Airline tickets are only good for AirTran, so please consider travel before submitting.