Becoming the Face of a Fundraiser
These two guys went the extra mile on their fundraisers with a little Photoshop action. Their ideas only go to prove that the sky's the limit when it comes to fundraising; you only need computer software to get you there!
Jason F., Markle Church of Christ
I put together a flyer to give to my elders here at church, trying to convince them to shell out the money for The Orange Conference. I didn't think I'd have trouble convincing them, but I decided to go the extra mile to make sure I'd get to be able to attend! And yes, I actually put my face on a homeless guys body… Can't wait for the conference!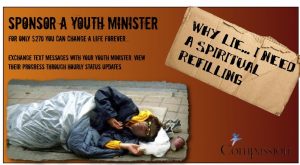 Steve C., RCC Student Ministries
Picture this… I get several hundred oranges and sell them for a $2 each. I could go to sporting events, theater productions, and the mall parking lot. I would wear one of those sandwich boards and dress like Lanny Donoho's orange Avatar. I could even sell orange juice or smoothies. I only need to sell about 500 oranges!