Day 2 Orange Week 2.0
Day 2 of Orange Week– lots more posts from a variety of perspectives. Love it! *Michael Bayne wrote about engaging with parents of students. *Chad Swanzy shares a resource that helps you figure out a student's view of home. *I (Kenny) wrote about my struggle of really defining what it means to be red. *Sam […]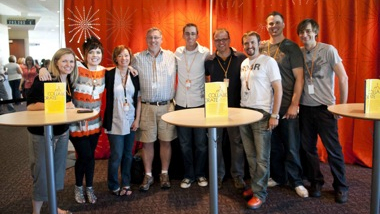 Day 2 of Orange Week– lots more posts from a variety of perspectives. Love it!
*Michael Bayne wrote about engaging with parents of students.
*Chad Swanzy shares a resource that helps you figure out a student's view of home.
*I (Kenny) wrote about my struggle of really defining what it means to be red.
*Sam Luce's post has red in the title, but talks powerfully about the church being yellow.
*Jonathan Cliff continues telling about his transition to Orange Curriculum, specifically how he uses 252 Basics.
*Barbara Graves wrote about the influence parents have on their kids.
*Nick Blevins showed a diagram of how his church lives out Orange, Yellow and Red strategies. In addition, he posted a video that teaches parents how to use God Time Cards and Refrigerator Cards.
*Anthony Prince provides an incredible example of a family event for mom and sons.
*Dan Scott posted about seeing red and asking a parent to tell him from their perspective what it means to be a part of an Orange Church. Dan also wrote a killer post about how he and his team made age specific events more family friendly.
*JC wrote about how families were the fabric of creation–extra points for creativity!
*Matt McKee wrote about Reggie's "Stock Family" illustration. It's through whacked out crazy families that God has done some of his greatest works!
*Henry Zonio wrote a phenomenal post about the heart of Orange, which is families. Zonio hit the nail on the head when he said parents will always love their children far more that the church.
*Keith Tusing joins the conversation today by sharing about his experience at Orange last year. He shares about three "slices" he took away that impacted him greatly.
Wow, I think these posts are getting better every day. Can't wait to see what I'll be reading by Monday! Which of these will be just what you need to read?
Follow Us
Stay connected to us and be the first to know about exclusive deals and upcoming events.