There are 2 other ways that I'm challenged by this idea to "write a better story" besides as a dad. (uploaded to flickr by geishaboy500)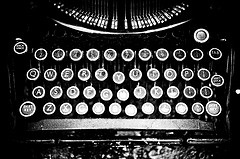 2) As a leader of our student community
As a student ministry director am I a program facilitator, or a story facilitator? Do our students see adults, small group leaders, and peers living a compelling story by really risking for their relationship with God? Does my life demonstrate a God story so compelling that students and leaders can't help but follow? Are we living an adventure as a student community? Is our story a compelling one?
3) As a champion for parents
So much of my time is spent facilitating, dreaming, and leading memorable stories in our student community. I want the environments, the experiences, the relationships within our student ministry to be full of memorable, impacting stories of what it means to follow Jesus. BUT do we help parents to do the same? Do I spend more time showing stories of how God works in our ministry's 40 hours a year, or do I help our parents write better stories during their 3000 hours? At the end of high school, no matter how great we feel the story of God was in our ministry or program, if students didn't see it working day-to-day in the lives of actual adults in a compelling way, will they choose to follow?
In what ways have you been able to put compelling stories of those who are following Jesus with all they've got in front of your students? More importantly, how have you been able to help your parents live out more compelling stories of God at work in front of their students?