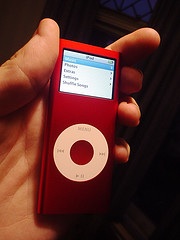 Every summer I break out all the tunes and rethink the core worship playlist I will use for the next school year. I love to make my selections now so that I can begin teaching new songs over the summer.
The strategy behind that thinking is that by the time fall comes along, it won't be "all new" to everyone. (And that encourages others to participate too!)
I start off with 12 core worship songs. Why? Because if you schedule 3 songs for your worship sets, in an ideal world, you will sing through your entire playlist once a month (that's only each song 12 times a year). The reality is, we all bring in special worship music for holidays or for a particular message– so you can imagine how quickly we can lose the power of repetition.
So generally speaking, I start with 12 — and realize that there will be some flexibility to the list.
Last night I chose my elementary "core 12″ for 2010-2011 and thought I would share it with you.
There are a lot of songs on the new JUMP CD that I can't wait to teach to the kids. Look for these songs and more at Amber Sky Records.
Song/CD
1.JUMP/JUMP
2.We Won't be Quiet/Live it Out
3.Get Down REMIX/AmberSkyRecords Singles
4.Shout/Chase the Light
5.Happy Day/Live it Out
6.Know you Better/JUMP
7.Big House (REMIX)/JUMP
8.Feeling so Fly/Live it Out
9.Through the Fire/JUMP
10.Cannons /JUMP
11.Glory to God/ JUMP
12.You are the Light/Chase the Light
We are combining age groups for the summer, so I haven't thought through any changes when we break back up in the fall. But this will get us started.
So what's your strategy for selecting worship songs for ministry? What new worship songs do you plan to add or what favorites will you keep singing?