Trust-reversal
I first got challenged with the trust-reversal idea when Reggie Joiner and I were writing our parenting book together. In one of the drafts, he introduced this idea that parents might stop thinking in terms of simply being able to trust their kids and start asking a different question: do we live in a way […]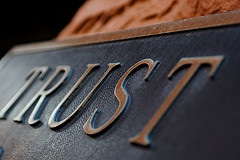 trust-reversal
idea when Reggie Joiner and I were writing
our parenting book
together. In one of the drafts, he introduced this idea that parents might stop thinking in terms of simply being able to trust their kids and start asking a different question: do we live in a way that our kids trust us? Are we consistent? Do we inspire confidence?
We can also change from asking if God is trustworthy in this or that situation and ask if we as leaders are worthy of his trust.
Look at this verse, "But not with my servant Moses. Of all my house, he is the one I trust." (Numbers 12.7).
Trust is dependability – a deep confidence in someone. God seemed to be looking for servant leaders He could trust and depend on.
So maybe the question for those who want to live a life alive in God is this: Can God trust you?
I love these thoughts. They're challenging me. And they're great to kick off a new week.
Have you ever thought that kids are looking for parents and adults to trust? Or that God might be looking for leaders like you to trust with big things? If this is true, how might you do ministry or life differently this week? What other areas need a trust reversal?
I first got challenged with the